3 Ways to Locate CD Keys In Windows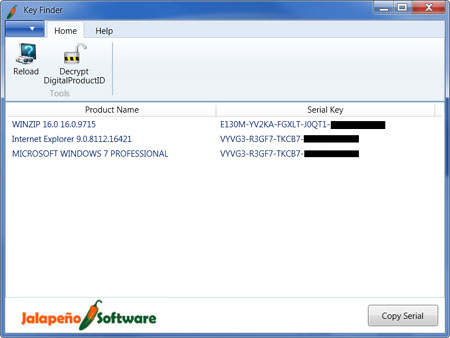 CD keys are the most important thing in the world. Everytime you buy a new computer, it comes bundled with a full version of Microsoft Office and most importantly, your Windows legit CD key. As time goes by, we tend to lose track of the product CD keys and more than often, having to buy another copy of the product that was installed a few years ago.
In this guide, I will show you how to extract your own CD key of Windows, Microsoft Office as well as a few other softwares. Primarily, the majority will only be interested in just extracting the Windows operating system OEM license key, and the Microsoft Office product key.
Warning. Please do not use this guide as to steal somebody else's CD key, this guide is provided solely with the intention of assisting anybody who needs this piece of information.
You can locate CD keys in Windows in a few ways. I will list 3 in this article.
Jalapeno Keyfinder
The Jalapeno Keyfinder is one amazingly lightweight software that allows users to extract CD keys of a list of around 200 different softwares. You will be able to extract the key of almost every single piece of software that is installed in your computer. You can even export the entire list of detected CD keys into a text file so that you can refer to it via a print out and key in one by one after doing a re-format.
 ProduKey
ProduKey is another simple to use interface. It is very similar to Jalapeno Keyfinder. However, this ProduKey will tigger off a virus alert which is actually a false positive. Read more about it here.
It claims to support recovering CD keys of up to 1000 over major programs like Adobe, Symantec etc.
SIW – System Information for Windows
SIW might be an overkill if your intention is only to recover software keys. It shows you a lot of information ranging from hardware to software. This is the type of software you will need if you are totally zero with computers and you need to answer a tech guru the technical specifications of your computer. This is the software that will help you break down all the necessary information into categories that a normal person can understand and read it to an expert.
For simplicity sake, you can locate all the necessary licensing information under the category called "Licences" at the left side
From now on, you will be able to extract all your CD keys for your pre-installed software and have them kept somewhere safe, such as the online cloud or dropbox. This way, you will never have to pay extra money for a legit copy of a software in the event you need to send your system for a re-format.