Android Multi-boot Loader Apps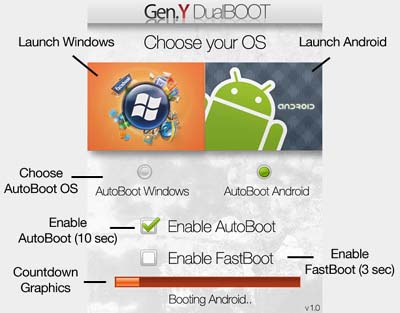 Android Dual Boot Multi boot loader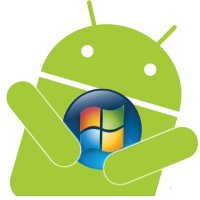 Tech gurus might know the fact that it is possible to run Android in a smartphone that comes pre-installed with Windows Mobile. Therefore, there is a need for a boot loader app that will make running of Android less of a chore. There are in fact quite a couple of Android boot loaders that you can use in the web out there. In this article, I will list some of the best Andriod boot loaders that I found which are free.
Jmz dual boot
For this dual boot app, you will be able to choose between the free and paid version. The free version is a very simple and no frills package that contains nothing but text. All you will get is two rectangular boxes with one named "Boot Android" and the other "Boot Windows". Still, this app works like a charm. You can opt for the paid version which looks outstanding with a sleek graphic user interface packed with additional features like auto boot on time out. This boot loader is able to detect any Android build that has the Haret.exe and the CLRCAD.exe placed on the root of the SD card or in a folder called Android.
This Jmz boot loader has a version 5 that requires purchase.  The paid version comes with a very beautiful graphical interface that resembles the look of the Gen.Y DualBoot.  The paid version also supports autoboot on timeout.  I won't recommend paying for this app since the Gen.Y Dualboot is able to do the same.  The only difference is that the Jmz boot has a better detection abilities compared to the Gen.Y Dualboot.  The Gen.Y Dualboot is only able to detect builds that have the Haret.exe and the CLRCAD.exe in the "Android" folder
Gen.Y DualBoot
This is a very outstanding dual boot app for smartphones. It comes with a very pretty graphical user interface. It even comes with autoboot upon time out. You can also set the default operating system to be boot to when you start up your phone. This boot loader however has some limitations. It will only boot Android builds that have the Haret.exe and the CLRCAD.exe in the Android folder. If you have those two files in the root of the SD card, it will display the message that no Android has been detected. Other then that, this is one of the best Android boot loader you can find out there for free.


Exceller Multi Boot Loader


Exceller Multi Boot Loader is a very well designed boot loader in terms of looks and functionality. The best part of this boot loader is that it supports booting of multiple Android builds in one SD card. All you need to do is to put your Androids in various folders and have them named differently. Exceller will attempt to detect all the builds as long as the Haret.exe and the CLRCAD.exe are either in the root of the different folders or in the "Android" folder of the individually named folder.
You will need to take note that modifications need to be made to the Android build before it will boot off correctly. Every Android build comes with a This boot loader does not start automatically like the other boot loaders. It requires a manual execution of the app before you are able to choose between the various Android builds. Every Android build contains a configuration file called the "startup.txt". Edit this file using notepad software as described below.
Edit the file startup.txt
Find this line on your startup txt set cmdline ""
Insert rel_path=YourbuildfolderHere between the qoutes
Ex: set cmdline "rel_path=YourbuildfolderHere"
Make sure you save your changes.
After which, you will be able to boot into the different builds using this bootloader. This bootloader will work with the other boot loaders without any conflict since this bootloader does not startup automatically on its own. I hope all readers enjoy this article on Android Dual Boot Multi boot loaders.