Android Wi-Fi Tethering Apps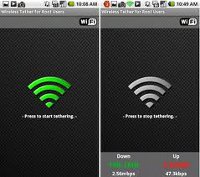 Wi Fi tethering is a very useful function that can be used on smartphones these days. Android users might not know that there are actually a few good Android Wi Fi tether choices that are free. The good news about Android Wi-Fi tether apps is that they have more features then the Windows mobile counterparts. But in order to use these apps, you need to root your Android phone. Nevertheless, I am still impressed by the fact that these free Android Wi-Fi tether apps have real outstanding graphical interface.
Wireless Tether for Root Users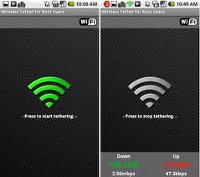 Wireless Tether for Root Users is downloadable from the Android market. I give this app a 5 star rating for its performance and features. To start tethering is a simple tap of the icon on the app. You can have choices between starting an unprotected network or protect it with a passkey. You can even opt for an access control mode. This access control mode means that you will decide if you want to give internet access to computers that are connected to your network if you choose not to lock your Wi-Fi. This mode will remember all previous connected devices so that you do not have to select allow or deny all the time.
It also has a "app lock" function to avoid any accidental disconnect of the Wi-Fi tether. You will need to touch a small "lock" icon before you can stop the tether.
Barnacle Wi-Fi Tether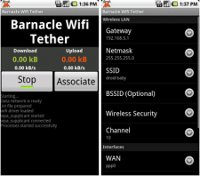 Barnacle Wi-Fi Tether is also another free Android Wi-Fi tether app that requires root access. It has a lot of features like enabling of passkey protection to mac filtering. The Barnacle Wi-Fi Tether has a less attractive user interface as compared to the Wireless Tether for root users. Depending on individual user experience, there are comments and feedback claiming that this app is faster then the Wireless Tether for Root Users by a increadible 5 times.
But for me, this app did not work out. I can detect and connect to the Barnacle network with no issues, but it did not assign an IP for me. Still I recommend this app for users who might find it working for them.
Here are 2 of the great Android Wi-Fi tethering apps that can be downloaded from the Android market. If you have a better app to recommend, do leave your responses in the comments section below.