Best Portable Mini Speakers 2012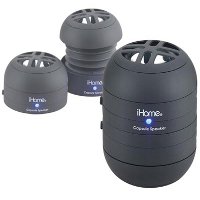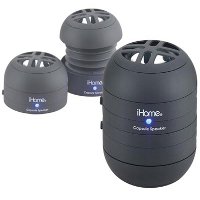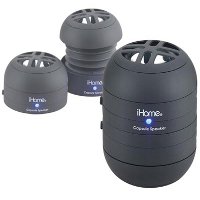 This article list some of the best portable mini speakers 2012. Folks who travel frequently will need to pack their mobile devices with music as entertainment when they check into hotel rooms. In the past, portable mini speakers are not feasible since the volume is not decent at all. With the advancement in technology, a small speaker that is not bigger than the size of your palm can blast music that covers 10 meters area with no issues.  I will update this list from time to time when better models are released.
Better models even come with Bluetooth connectivity so fumbling with wires will be an issue of the past. Having the Bluetooh function equates having a hands free kit when you are driving. Since having to put on a earphone piece all the time can be quite cumbersome.
iHome iHM79
Normally a portable speaker don't come with a pair of speakers, but the iHome iHM79 speakers gives you a set of speakers for a stereo ambience. You can twist it and the speakers will expand taller, the audio volume will increase as well. Each speaker has its own power switch which you will have to turn it on manually. This means that you can actually choose to bring just one of the speaker when you travel so that your baggage will be lighter.
Veho 360 M4
This Veho 360 M4 is a small but mighty device. It weighs just around 50 grams and measures only 2.5 by 2 inch in size. Yet it comes with wired and Bluetooh connectivity options, wireless touch controls and it supports reading from a microSD card with a max size of 16 Gig. The player itself is able to play mp3 and wma formats. Do not expect too much from a speaker with such a mini build though, the audio will be generally flat with the lack of bass and audio enhancement. For a small study group or someone who works in the quiet office, this will be the perfect device.
X-Mini Kai
The new brother of the X-Mini Kai, this version looks no different from its predecessor, just another look cloned out of it's original X-Mini. It comes with Bluetooth support in this model and it even has a mic built in so that this device doubles up as a wireless car hands free kit. X-Mini is the first portable mini speakers that impressed the world for being small and powerful. This one is just as good. It costs slightly more than the average portable speakers.
I hope all these best portable mini speakers 2012 will assist the readers in making a choice when they need to get a very best portable mini speaker.