Burn Discs Without Additional Software in Win 8

What is the best burning software for Win8?  Do you know that you can burn and erase discs without the need for any 3rd party software?  I believe that this feature is something that is passed down from the Windows 7, just that a lot of people do not know at all.  In this guide I will show you how you can burn discs without having to download any additional software.
Insert a compatible disc into the drive and you will be able to double click on the drive where by the system will tell you if the disc that's being inserted is a blank disc or a re-writable medium.  Right click on it and if it is a re-writable disc, you will be able to find an erase option, if there was anything written to the disc before.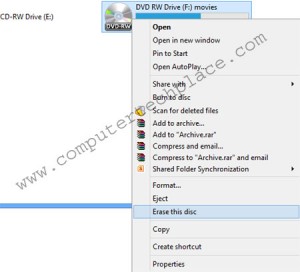 To burn files to the disc, all you need to do is to click hold while you drag files to the drive.  After which the files you dragged over will be listed as half transparent icons in the drive.  You can delete the files like how you would do on a normal thumb drive.  Once you are done organizing the files that you wish to burn, simply right click on the drive and choose Burn to disc.
Besides burning to the disc like a normal disc burning software, if you insert a disc that is re-writable, you will have the option to use the disc like a USB thumb drive or to simply finalize the disc so that it can be played in a simple player. To activate this feature, simply double click on the disc and you will see the option.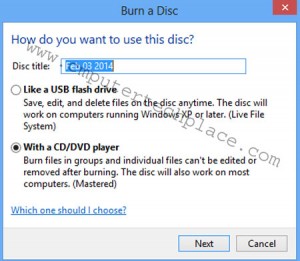 Hopefully this simple tip on how to Burn Discs Without Additional Software in Win 8 can be of some use to the less tech users who are too afraid to install anything that might contain more malware then good.