Combine And Use Multiple Broadband
Once again technology knows no bounds and we are able to combine and use multiple broadband sources in one machine.  Most of us these days have more than one source of internet.  One home Wi-Fi, one mobile data plan.  Some countries even have free Wi-Fi in their neighborhood.  Imagine if you can leverage on all available broadband sources, and combine and use multiple broadband plans to form one super fast mega broadband.
It is possible now with the use of a free software called Dispatch from the same creators of Connectify.  While the software requires you to have multiple Wi-Fi USB adapters or 3G dongles in order for you to utilize multiple broadband services, I have some additional tips for users to make use of existing hardware that you may have in your house.
Here are some ways to Combine and use multiple broadbands in one Machine without having to pay for additional networking hardware and making use of existing spare mobile phones..
Use Android phone as the Wi-Fi USB adapter for your computer
Any Android phone that is ICS and above should be able to achieve this without the need for additional hardware.
Simply turn on the Wi-Fi of your Android phone and connect to the Broadband so that it will not use the 3G data plan.  Connect the Android phone to your computer via USB and go to Settings => Tethering & portable hotspot => USB tethering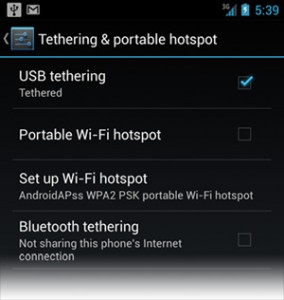 Bingo.  Now the Android phone gets the Wi-Fi connection from a source and tethers it across to your computer.
Use Windows Phone Mobile 6.5 as the Wi-Fi USB adapter.
Ever since Windows Phone Mobile 6.5 bit the dust, most of us threw the outdated phones into the drawer and it never get to see light ever.  Since it is worth nothing in the phone market, we might as well put it to good use.  Download the WMWifirouter package and install it on your Windows Phone Mobile 6.5.  It instantly turns your Windows phone into a handy 3G router / USB G adapter.
Run the app and make sure that you are connected to the Wi-Fi of your home network first or you have an existing 3G plan.  Simply use the 3G to USB or Wi-Fi to USB option after connecting the phone via USB to your computer.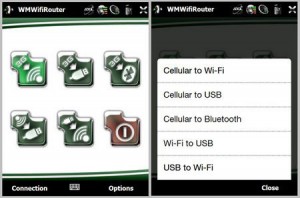 After making sure that you have multiple connections connected to your computer.  It's up to the Dispatch software to show you the magic.  Download and install Dispatch from the developers of Connectify.
Now it is totally free at this point in time when I am writing this article, I suggest users keep a copy of this older version as the developers are expected to make a paid version in future.
 This program is smart enough to activate and combine the networks impromptu without any need for the user to click and options as long as the Dispatch program is started.  All you need to do is connect to more and more network sources and Dispatch will automatically detect and take over.
I am very impressed with this piece of software as it is able to combine multiple types of connection.
1) 3G USB Dongle with Wi-Fi
2) Wi-Fi and Wi-Fi
3) LAN and 3G and Wi-Fi
This screenshot shows the combination of a home LAN + 3G USB dongle + an Android Samsung S4 Wi-Fi tethering.
A few observations from me as I am using the Dispatch software (free version).
1) It does not combine the bandwidth to allow you to download one file.  Meaning to say, you cannot combine 3 networks to get a 4 Gig file from Microsoft.  It will use one connection to get a file from Microsoft and after which assign another connection to web browsing and another connection for video viewing etc.
2) The software will review all connections and use the most appropriate connection for the role as it deems fit.  Which results in the weakest source left untouched.
3) LAN connections take precedence over other connections.  Which means, if you have a slow mobile connection via USB.  It will use the slower connection first.  So if you have a huge file to download, but you want the faster Wi-Fi to focus on the download while you use the slower bandwidth for surfing, connect to the Wi-Fi and start the download first.  Then connect your phone or the slower broadband later.
 4) Some glitch causes the Charms bar of the Win 8 to be flickering in and out whenever Dispatch is being stopped or started.  In this case, press the Windows Key + R and type "ncpa.cpl" without the quotes and select the connection you wish to connect to and click Connect To.
5) You will see the most significance of using this software only if you are downloading something huge from torrents.  The way this software assigns the bandwidth of multiple sources and allowing you to surf the web smoothly is totally something out of this world.
I would highly recommend the use of this software to anyone who wishes to leverage on multiple broadband sources.
Combine And Use Multiple Broadband