Connect Smartphone To Your Home Television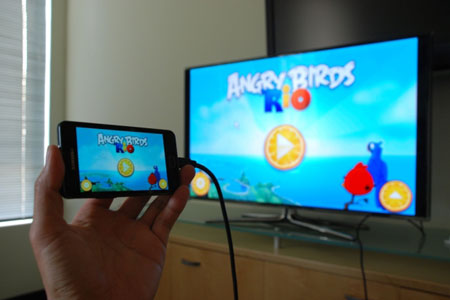 Our smartphones these days are no longer just a device for you to make phone calls, most of us spend a hell lot of time staring at it, viewing videos and playing games. Squinting at a small screen for long hours can be bad for the eyes. Therefore it is very logical to connect your smartphone to your home television whenever you get the chance. This allows you to view movies or videos on a larger screen in the comfort of your sofa
How to connect your smartphone to your home television.
Most of the smartphones these days come with the function to connect to any television with a HDMI port. A lot of users who are less tech will be misled into thinking that a mobile phone can never connect to a television because the size of the ports are poles apart. There are some terms you can take note of if you
DLNA – If you can find this term in any device, it means it can connect to a television via Wi-fi. This 4 characters DLNA can be found on the television too. However, not all is lost if you can only find this term on your smartphone or tablet. You can always buy a DLNA compliant tv box or similar media player to receive the signal for you from the smartphone while you connect that DLNA compliant player to your television via wires.
MHL – This is the mobile version of HDMI. While the phone itself may provide a cable that is totally way off in size when you compare it with a normal HDMI port. There are specific cables that come with a MHL port on one end and a HDMI port on the other end.
Connecting your smartphone to television wirelessly.
There is no need to jump into a frenzy and throw your LED television out to get one DLNA compliant one. You can always opt for something called the "streaming boxes". Such devices will come with HDMI wires for you to hook up to your television, while it connects to your DLNA smartphone on behalf of your television.
Be sure to check with the vendor before you make the purchase because no every single streaming box is the same and may not work with your smartphone. Some safe examples will be listed as follows.
HTC Media Link HD
This is a streaming box that works with most HTC devices, since most of the HTC devices run Android, this means that buying this streaming box will be a safe bet for most models of smartphones that run Android.
Samsung AllShare Cast
Samsung is rising above all competition in the smartphone market. Getting this Samsung AllShare Cast streaming box means that you will be able to connect most Samsung smartphones and its range of Galaxy note series.
Apple TV
Apple uses their own streaming device and standard known as the Apple TV. Do not be mistaken that this Apple TV for a rectangular screen. It is just a small device that has a squarish body. This Apple TV uses a wireless standard of their own which they called it AirPlay. Once you turn on the Apple TV streaming box, it will stay active all the way through. As long as the Apple TV setup box is connected to the same Wi-FI network that is in the house, you will be able to transfer the image from your iPhone to the television. Remember to start the AirPlay Mirroring feature in your iPhone.
On your i-Device, double click on the home button, and swipe from the left to right until the AirPlay Mirroring icon is visible. Tap on the icon and it will activate AirPlay Mirroring on your i-OS device and select your Apple TV.