Create Windows 8 To Go On Any USB Thumb Drive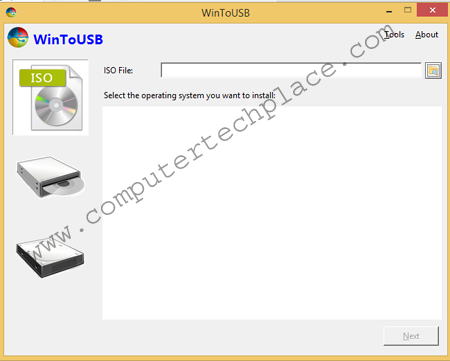 Having bootable operating systems is a must have for an IT personnel, it allows you to boot into a functioning system in the event should the main operating system is not bootable.  However all the bootable CDs have one limitation, and that is it does not allow you to save data on top of it or execute programs directly off it.  By creating the bootable thumb drive instead of a bootable CD may seem like the solution, those thumb drives do not have a full functioning registry that allows you to install applications or drivers on the fly.  Thus I embarked on the concept of a Windows 8 to Go thumb drive.
I hit another obstacle where by in order to create a Windows to 8 thumb drive, you will need to have a thumb drive that is either a certified Windows 8 to go device, or it must show up in the computer as a fixed drive.  After going through a lot of trial and error, I have managed to understand what it takes to create a Windows 8 To Go drive.  After going through a ton of extensive experiments.  I have concluded the following.
Requirements to create Windows 8 To Go on any USB thumb drive
1.  It is possible to use any USB HDD as a Windows to Go drive, however using a USB HDD may not work if the laptop's USB is weak and does not provide enough current to hold the drive up.
2.  The drive that you are using to create a Windows To Go must meet the following conditions.
a.  It must be a local disk
b.  You must be able to set the drive as an active partition.
c.  The thumb drive or partition must show up in resource monitor as a drive where by it is showing the read and write speed in real time, or it will most likely not work
Softwares that allow you to create Windows 8 To Go on any USB thumb drive
The good news is that I have found a program that allows you to install on any Thumb drive.  At least I have successfully tested it on a Sony MicroVault Click which is not one of the certified thumb drives and it is listed as a removable drive in my system.
Information on the web thus far.
You might have also searched all over the web and found the following.
1. Use Rufus – will need a certified USB thumb drive.
2. Use gimagex  – Force creation, but does not guarantee that it will work.
3. Use just DISM or imagex commands directly with install.wim and finish off with bcdboot.exe X:\Windows /s X: /f ALL   – will work with most USB HDDs
4. Use WintoUSB, now this one works for me on any thumb drive
For Rufus, it would be perfect if your thumb drive is a Windows To Go certified drive, or if you are unsure, Rufus can detect and warn you in advance.
For Gimagex, it is great if you know how to capture a custom .wim file that is pre-staged and configured, meaning to say, you can image a .wim file onto a thumb drive without having to go through the setup steps again each time you wish to create a Windows To Go drive.
For the direct command line, it is good if you want to create it directly on a USB HDD.
Create Windows 8 To Go On Any USB Thumb Drive
How to install Windows To Go on any USB thumb drive?
I strongly recommend users getting a USB3.0 64 Gig, 32 Gig is a minimum even though 16 Gig is enough.  But you will end up with a Windows To Go that is almost full to start with, so what is the point?
Things you will need to get.
2.  A Windows CD or download off the web.
3.  Optional but good to have, Driver pack  Download the entire 9 Gigs worth of drivers and throw it in your thumb drive once you are done with the first boot up.  It will enable you to install 99.99% of the missing drivers in an unknown computer and you will be able to work instantly.
Choose the thumb drive you want to use and the software will ask you if you wish to use USB, CD or even clone your entire system to the thumb drive.  I think to have the option to clone the whole drive out is totally insane.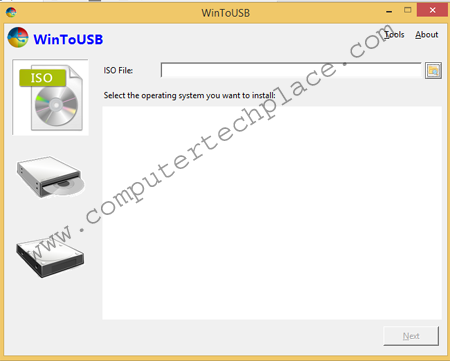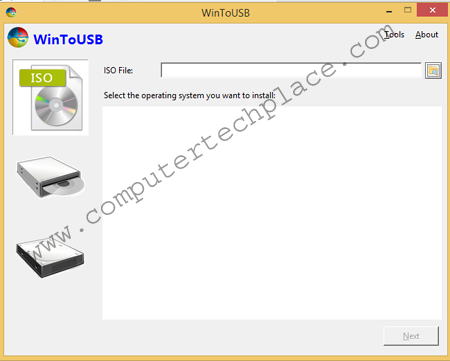 Browse to the iso file of your Windows CD and choose the system you wish to install.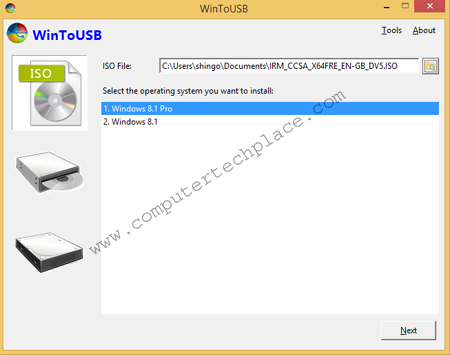 Choose the thumb drive and it will say that you will have to format this drive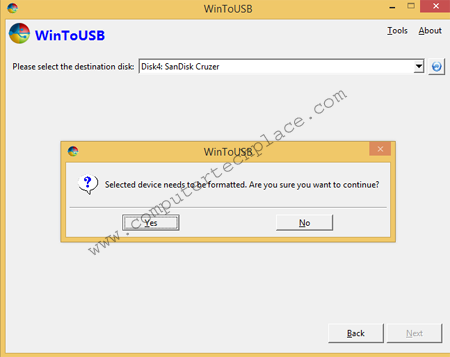 After which, you will have to click and select both the disks and it will have a red border.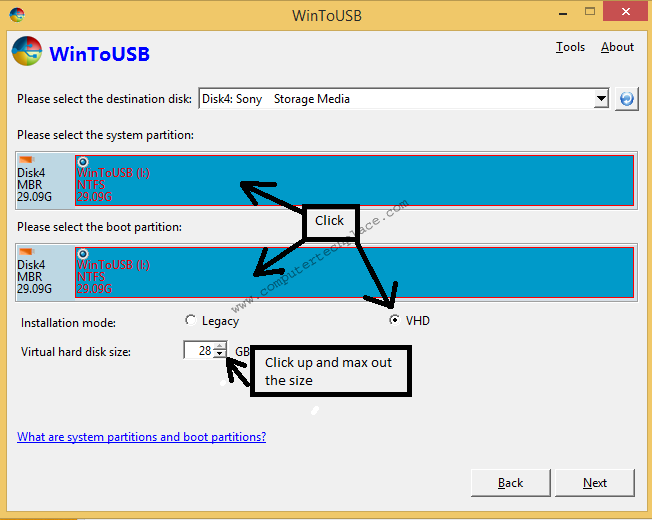 Click on next and it will create the disk for you.
This software will create a VHD on the thumb drive where by it will write a boot record onto your computer, which in other words you will see an additional boot option in your computer even if you pull out the thumb drive and do not use it anymore.  The boot record is useless and it will not allow you to select, if you use that boot entry, you will get a Bluescreen.  Use the Bios boot priority and it will work fine.
If you intend to remove the entry that does not work, simply go to msconfig.  Under the boot tab, highlight the boot entry and remove delete it.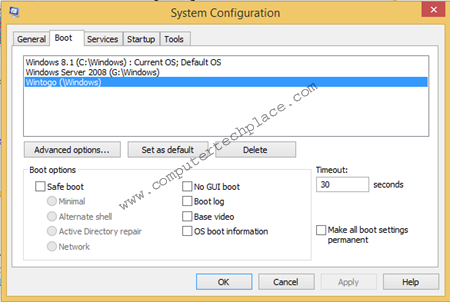 Few things to take note.
1.  Do not let the system go to sleep as it may not be able to resume and results in a BSOD.
2. Connecting this as a thumb drive and copying files across is not advisable as it may corrupt the boot files.  If need be, boot it up and copy the files you want to use in the thumb drive with this thumb drive as the main operating system and the files in another thumb drive as slave.
3. Disable Windows Updates is highly recommended as we only have a small thumb drive.  Unless you have a 64 gig and above thumb drive.
4.  Avoid unplugging it without shutting it down completely, pretty obvious since we all know what will happen if you do not let Windows shut down properly.
This Windows To Go drive is a very good emergency operating system should anything happen to your computer, and you need a quick system to boot up and save your files out quickly.  It is also good in case you wish to share a public computer and you do not feel safe using their browsers or software.