Innovation T6 3D Projector Review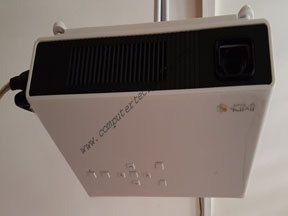 I have recently purchased the Innovation T6 3D projector.  Before I made this purchase, I tried searching online for any reviews of this device.  However, I was unable to find any review on this product.  As much as it seems unbelievable for this projector to be as good as it claims.  I will have to see it for myself.
The entire device is only approximately half the size of a Playstation, with a lens that is no bigger than the size of your thumb.  It weighs around 1KG.  I would say this petite little device seems to have won the Guinness world record for bragging its own capabilities.
Innovation T6 3D Projector Review
Let's take a look at what the brochure claims
1.  A ton of compatible supported connectors HDMI VGA AV and even LAN port.
This is true as it claims, in fact this device is also capable of using HDMI screencast dongles as long as that dongle does not require any additional software installation.  You can do screen mirroring of anything that supports HDMI screencasting of that 3rd party dongle.
2. Projection Size up to 200 inches.
I believe this is possible as I had only positioned it half the distance of the room and the screen size fills up half the wall of the room.  However, the brightness and the clarity may take a hit.  But come on, who needs a 200 inch TV.  Not like you are King Kong or a big giant from Jack and the beanstalk.  The best part is that I do not need to shut the lights and it is bright and clear.  Shut the lights or pull some curtains for best results. By the way, this demonstration is in the brightest time in the day, which some time at noon.
3.  2D to 3D conversion.
This is one of the most anticipated feature of them all.  I am skeptical as to how can a small projector that weighs 1KG, size that small, can be capable of projecting 3D that can be impressive.  I was even worried if the 3D as it claims will be actually the blue and red glasses where the color would look awkward.  Even if it is a real 3D, I will hold my dollars if the 3D is only in the wall and not extending outwards towards me.  I know that there are 3D TVs that only have depth inside the screen but they used the term 3D as a marketing ploy. The real cinematic experience is beyond that.
As I explained my concerns to the sales staff, she prep the machine for a demonstration for me to see.  She explained to me that the 2D to 3D will be artificially emulated out of normal 2D movies so that there will be some 3D experience.  However, there is support for real 3D.  As I raised my eyebrows to her comment, real 3D?  She passed the 3D glasses to me and I put it on.  The moment I saw the video.  I was like "SHUT UP AND TAKE MY MONEY".
It was a cinematic 3D experience, no kidding.  And if the video were an AVI or MPG or MKV from the thumb drive, I might be less impressed as I know that I might need to buy the 3D movies to make this work.  But she fired up the Youtube app and loaded a Youtube 3D video from LG.  And I was like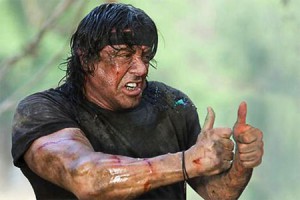 When I reached home, I tried a ton of Youtube 3D videos, and as long as it is the Google VR experience video or any video labeled as SBS 3D will work with its full glory.
4.  Android OS built in
To top it off the icing of the cake, this projector had an Android on it, which means that you can install all kinds of apps and watch videos without having to hook up any additional android TV box or connect any device on top of it.  You can connect to your house Wi-Fi and surf facebook, Chrome, Youtube and check emails and do everything you wish on a 200 inch smartphone.  Lolx.
5.  Built in internal battery
The brochure claims to have 2.5 hours, I think it is capable of more than 2.5 hours.  However, a small gripe I have will be that the internal battery is only meant to function like a UPS.  Which means you cannot charge it up and bring it out to turn it on.  It will still require you to connect the main power before you can turn it on.  After which you can turn off the main power source from the wall socket and it will stay on.  Update from reader Frost.  Hold on to power button and it turns on.
6.  Sound quality
Sound quality is acceptable.  I will say that it has a volume that is comparable to having a real TV.  In fact most of the time, I only crank the volume to around 1/10 of the entire volume bar, as I find it too loud. However, you will not get any bass or surround sound for this.  The good news is that you can pair Bluetooth audio devices for great sound.
7.  USB ports and peripherals
There are a total of 3 USB ports.  2 of them are inter-switchable where you can either hook up a thumb drive or a USB mouse or Keyboard.  There is a 3rd USB which I have not found out what it is for.  My guess is that the 3rd port is meant to be used as a phone charger, since there is a phone charger option in the projector settings.  There is also SD card slot.  The shop provides a free "Air Mouse" which is pretty neat where it is a remote controller on one side and a qwerty keyboard on the other side.  The best part is that there is actually a mouse cursor whereby you can control like a Logitech presenter device.
8.  Any disadvantages?
I will say that the slight disappointment will be that the Native Resolution is 1280 x 800.  Even though there is an (up to 4K).  I doubt that it is capable of full HD.  Unless you keep the screen size really small, you might get an ultra sharp display which defeats the purpose of a projector.
If you are wondering if you should get one, I will say that this projector will be worth your buck.  However, if you already have an awesome TV and investing in one of these would require some serious decision making, I would say, to hold on first, as this device is still not full HD or 4K yet.  You might be able to get a real full HD projector by then if you wait for the future models to be out.