iPad 2 To Come With Camera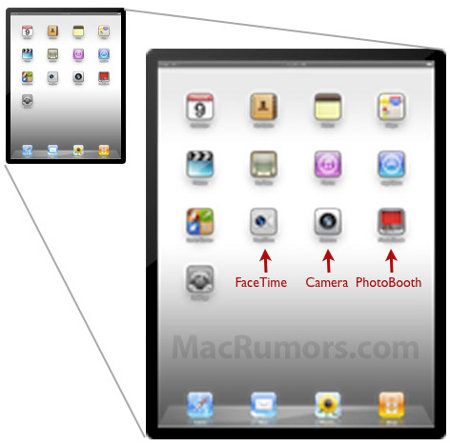 It has been confirmed that iPad 2 has Camera and will be a device that supports FaceTime messaging.  The recent release of iOS 4.3 Beta 2 has revealed even more information that the iPad 2 will come with cameras.  The image from MacRumours.com showed that the home screen had icons that came with apps for FaceTime, Camera and Photo booth.
Having FaceTime app means that the iPad 2 will be able to communicate with the iPhone and Mac computers.  The Photo Booth app contains filters like Thermal Camera, Mirror, X-Ray, Kaleidoscope, Light Tunnel, Squeeze, Twirl and Stretch,  which allows users to take funky photos.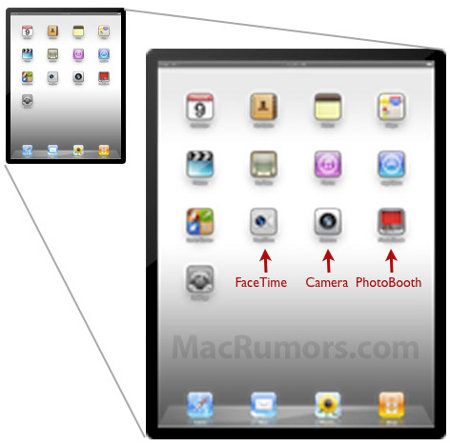 As usual the iPad will most likely come with multiple versions with a model that has only Wi-Fi , a model that supports UMTS and CDMA and a model that comes with both.  Having multiple models of that device is due to the fact that only selected telcos are given the rights to provide that network coverage.
We can also expect a slimmer, lighter and brighter retina display then the previous model.  Apple has always been improving on the design of their devices and having the iPad 1 such a whooping 9.7 inch in size, there is always ample space to tightening waist line so that the new iPad 2 will look even more appealing and light.  If they can squeeze the Macbook air which is already thin enough, I believe the iPad 2 may take that design from the new Macbook air.
There are already enough speculations that the iPad 2 will arrive by the first quarter of the 2011, there is no doubt about the accuracy in that time line.  Lets all wait to see the product unveil on the actual day itself.