Migrate from MSN to Skype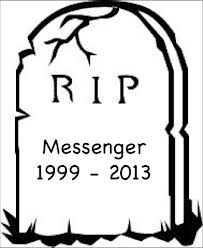 As unwilling as you may be, Microsoft is pulling the plug on the trusty MSN messenger that served many in their dating days in the twentieth century. But all is not lost, you can migrate from MSN to Skype if messaging is everything to you. Even though there are alternatives out there, the support for MSN messaging will not be forever, eventually, they will stop supporting MSN contact list too. Skype's director for marketing integration Mr Parri Munsell said, Messanger will cease to work on third party programs at a later date and users will be notified accordingly. Nobody wants to lose their database of contacts. In this article, you will discover that you will not lose all your MSN contacts as long as you decide to use Skype from now on. Here are the steps to Migrate over to Skype.
1) Download and install the latest version of Skype
2) Sign in to Skype with the Microsoft account that you use for MSN.
3) If you already had one Skype account, you can choose to merge it with the MSN account.
After merging your MSN account with Skype, there will be two contact lists, one for MSN and one for Skype, if you have a friend who uses Skype and you have the same contact from MSN, you will see his contact show up twice if you select the "All list". You are only allowed to merge on Skype account with a single MSN account.
You will not be able to block a Messenger contact request from Skype, but you can manage your Messenger friends from your Microsoft account. Everything will be as per normal with not much of a difference once you have made a transition from MSN to Skype. As long as your friend or contacts did merge their MSN accounts over to Skype, you will be able to search for them via email or Microsoft account.
And that's all folks, time and tide waits for no man, and eventually newer technologies will take over. At least we do not lose our contacts by doing a migration from MSN to Skype.