Nexus 7 The Latest Jelly Bean Android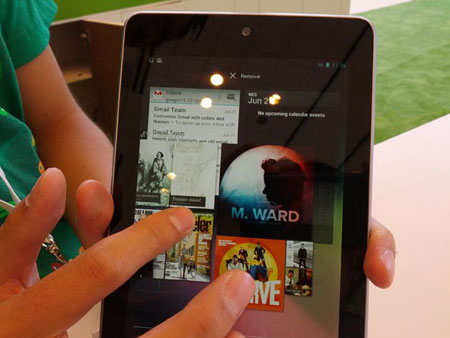 Barely few Months after Android Ice Cream Sandwich managed to reach as many people as possible with new handsets running it's latest 4.0 Android, it instantly reveals intention to release another new operating system Android 4.1 called the Jelly Bean. Looks like it is unable to hold back the retaliation from Microsoft with it's new Windows 8 tablet computer "Surface". Google instantly throws out the latest contender, Nexus 7.
The Nexus 7 will be the first tablet that comes with a quad core CPU coupled with the most powerful mobile GPU – Nvidia Tegra 3 chip. As usual, this Nexus tablet will be 7 inch in size, like most Android tablets. Lets take a look at some of the juicy bits of this new Jelly Bean
Resizing of Widgets
Widgets will no longer abide by a pre-determined size. You are allowed to resize it to a smaller or bigger or longer layout. It even resizes automatically into whatever free space there is on the screen itself. This makes everything feel a whole lot natural when you work with widgets
Predictive Text Typing


Instead of simply having spelling assistance with a list of correctly spelled words on top of the keyboard, it will now attempt to guess the sentence that you are intending to write. It will display the words that you may be thinking of writing next. This feature is actually avaliable in Ice Cream Sandwich except that it will be further improved.
Voice typing
Previous versions of Google's voice typing feature requires a data connection. It sends the requrest to the online sever and analyses the message before sending the text back to the phone. Now, with Jelly Bean, it will remove the need to get online. All the voice analysis will be done via the device itself. In fact, it even has the artifical intelligence to tell between pauses and inserts the comma and full stop for you. Google's voice typing feature is based on the "Dragon Dictate technology)", one of the best voice software developers out there.
Faster Photo Taking
The new photo function allows you to review snapshots and delete photos right on the same screen where you take your photos, this makes everything a whole lot faster because you do not need to jump in and out of the gallery to view your shots. Deleting of photos can be done by swiping your hand in one direction via the camera app.
Additonal NFC features
Newer devices will have the NFC chip inserted. This will be the norm from now on, just like how future handsets all come with the gyroscope and touch screens. But currently the NFC chip has only few features like tapping to transfer image. They intend to include bluetooth pairing as well. I believe in future, this chip will allow us to make payment with our phone by tapping onto a payment device.


Improved notifications drop panel


Well Android already has a very good notifications drop down panel, the information there is limited, you are only able to see how many emails, missed calls or sms you have. But you need to open the app to see what is in there. Now you are able to see the contents via the notification drop down panel. Do you do not need to start the email app for example just to see that it is just a piece of junk mail.
Improved search


I don't need to empahize the fact that voice search and manual typing search has been improved. The difference now is that the whole search experience will be inter-connected with various apps if I choose to see it this way. If you want to search for the nearest fast food joint for example, it will display results in "Cards" instead of listing them all in a never ending list. You can tap on the "Card" to reveal additional information such as address and any content that the company decides to put on the web. If need be, simply tap on the address and it will instantly transit into Google maps and you will be presented with extra options and get Google maps to navigate you there.
Google Now
This is a new feature that will monitor your history of activities and calender, in which it will attempt to provide you with as much information as possible even if you are not asking for it. Perhaps, it is someone's birthday today, it will remind you and if you want, it can suggest the nearest shopping complexes where you can quickly pick up a present, book a dinner restaurant and maybe even finish off by booking a movie at the same time.
You can also use voice search to search anything, and it will attempt to display results in the form of a browser, or "Cards" that contain links or additonal information that you may wish to read up on.
It looks like this new Android Jelly Bean operating system is really the one that will smash apple right in and take the market by storm. I will be targetting Jelly Bean devices on my next handset purchase.