Play Warcraft 1 In an Android Device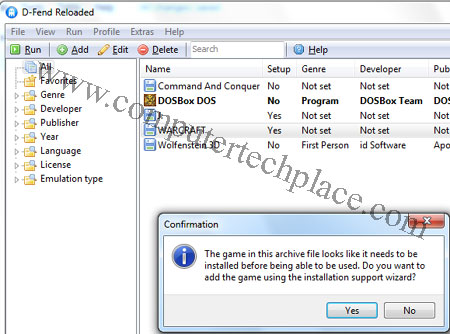 I was getting bored one day and I thought if is it possible to play Warcraft 1 in an Android device. Warcraft 1 is a very old Dos game. I thought it will be quite epic to old play Warcraft 1 in an Android device. Therefore I did some reading on it and found out that there was a special version of Dosbox that can be used on an Android device. Rubbing my hands with glee, I embarked on this little project to play Warcraft 1 in an Android device. There were already some videos out there that demonstrates playing of Warcraft 1 in Android. But I did a little bit extra and used a mouse together with my Android device.
[hana-flv-player video="http://www.computertechplace.com/wp-content/uploads/2012/09/warcraft.flv" width="400″ description="" player="4″ autoload="true" autoplay="false" loop="false" autorewind="true" /]
I used a demo version in this example. For those of you who have the game, you can use the full version. What I did was to install it in a normal computer first. Then copy the whole Warcraft 1 directory over to the SD card of my Android device.
Step 1 – Install Warcraft 1 in D-fend reloaded ( Windows PC )
The version I have is a demo, therefore it is in the form of a zip archive, using D-fend Reloaded, click on File => Import => Import archive.
Browse to your downloaded Warcraft.zip and you will see a prompt asking you if you want to use installer support. Choose "Yes".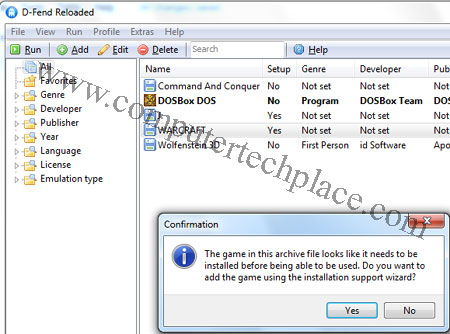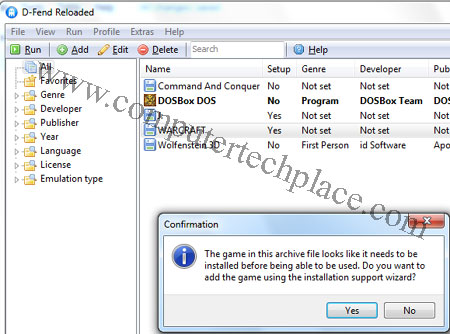 Since it is a Dos game, the installation should be basically hassle free. All you need to do is generally hit enter all the way till the end. At the end of the installation, a new entry should pop up in the D-fend Reloaded selection screen. Right click on the entry and select open game folder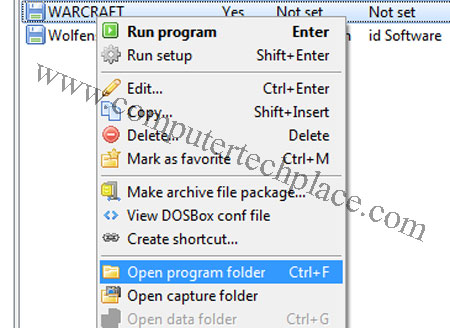 Now that the Warcraft 1 is installed with all the files extracted into the folder. All you need to do is copy the folder into the SD card. The game folder will be in the users\username\D-Fend-Reloaded\VirtualHD\Warcraft. As long as you copy the folder as it is into the SD card. You will be able to play the game in your Android phone.
Play Warcraft 1 In an Android Device
Install the aDosbox or Dosbox Turbo app from the Google Playstore. Run the app and you will see a Dos prompt. Press the "options" key of your device and bring up the on-screen keyboard. Key in the Dos commands just like how we do in those days and you will be able to run your game.
In my guide, I used a very outdated Android phone. Therefore the speed of the game seems ridiculously slow. But with mobile devices equiping themselves with more powerful processors. The possibility of a full gaming experience on a large tablet screen is no far at all. Imagine not having to lug a laptop around just to play some Dos games.
I hope this guide on how to play Warcraft 1 in an Android device is informative for all readers out there.