Samsung S9 – True Dolby Digital Atmos Cinematic Audio Power Right In Your Pocket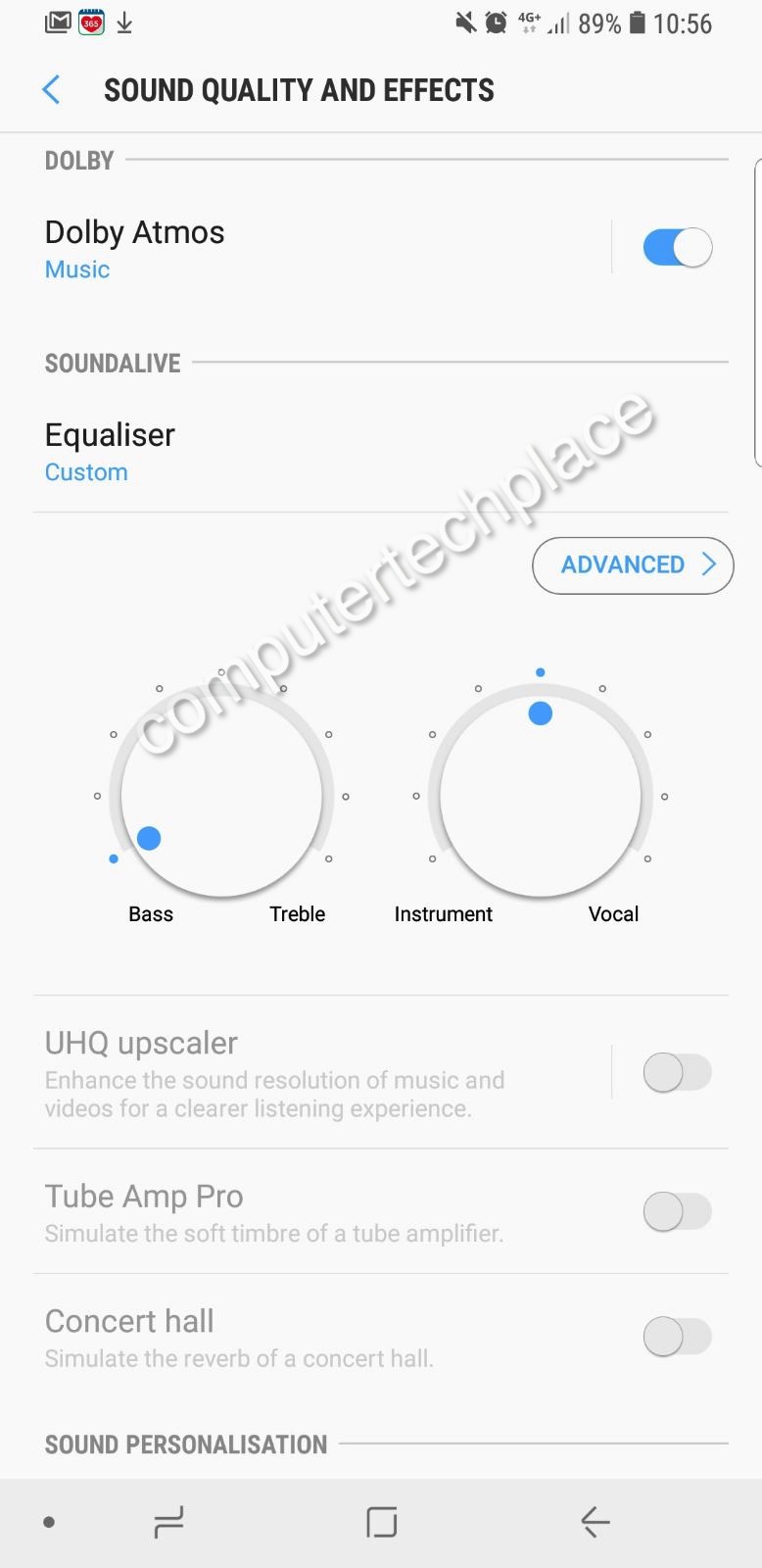 If you have been using your Samsung S9 solely for Whatsapp, Facebook, and checking out cat videos. I supposed that you do not know that your Samsung S9 is a smartphone that is capable of delivering true Dolby Digital Atmos Cinematic Audio Power right in your pocket.
Of course, one may dispute the fact that what kind of Cinematic Atmos experience is this crazy blogger talking about on a small screen even if the sound quality can be improved by a huge margin.
Well, in this guide, I am going to show you how you can turn something insignificant into something that is going to wow your senses. All it takes is just a little creativity and a dash of thinking out of the box.
Samsung S9 – True Dolby Digital Atmos Cinematic Audio Power Right In Your Pocket
In order to create your very own Cinema via the comfort of your own home, there are 3 things you will need.
1. A large TV or a really good projector. Ahem for example, my 3D projector.  Note that if your TV supports screen mirroring, then point 2 is not needed.
2. (Optional) A wireless display direct casting dongle, for instance, WiDi or Miracast adapter.
3. A Bluetooth splitter with some good quality Bluetooth speakers, or just a set of really good speakers with sub woofer.  Or simply a the earphone by Samsung S9, if you are truly on a budget.
Step 1 – Configure your Samsung audio settings.
Turn on the Dolby Atmos effects by going to Settings => Sounds and Vibration => Sound quality and effects.
You will be able to turn on quite a handful of effects here.  However, the settings do not co-exist with each other.  If you use Dolby Atmos, some of the effects will be greyed out.  So it is important to note that you will have to turn on the Dolby Atmos effects first.  After which you can proceed to turn on whatever that can co-exist with the Dolby Atmos.  For instance, the UHQ upscaler.
If you are unable to turn on the UHQ upscaler, close the settings app and connect a piece of headphones before you navigate to the Settings option.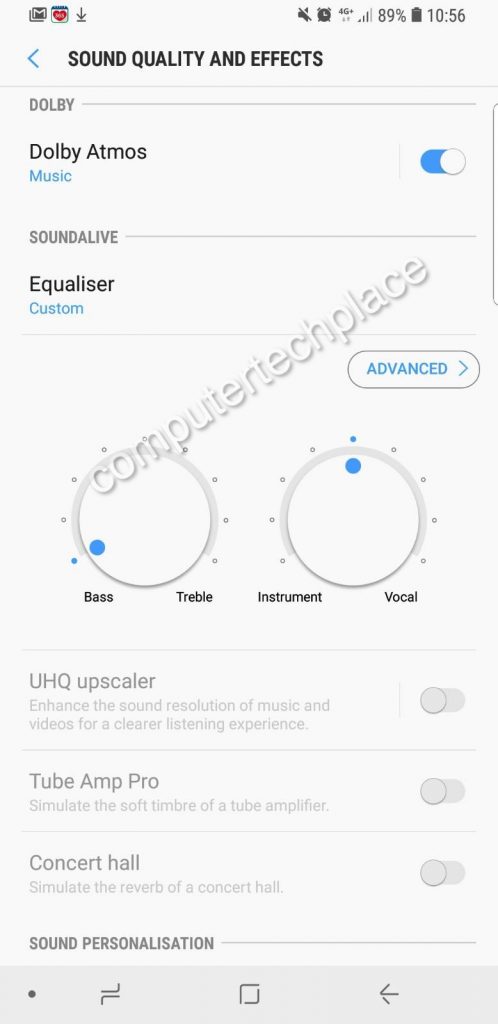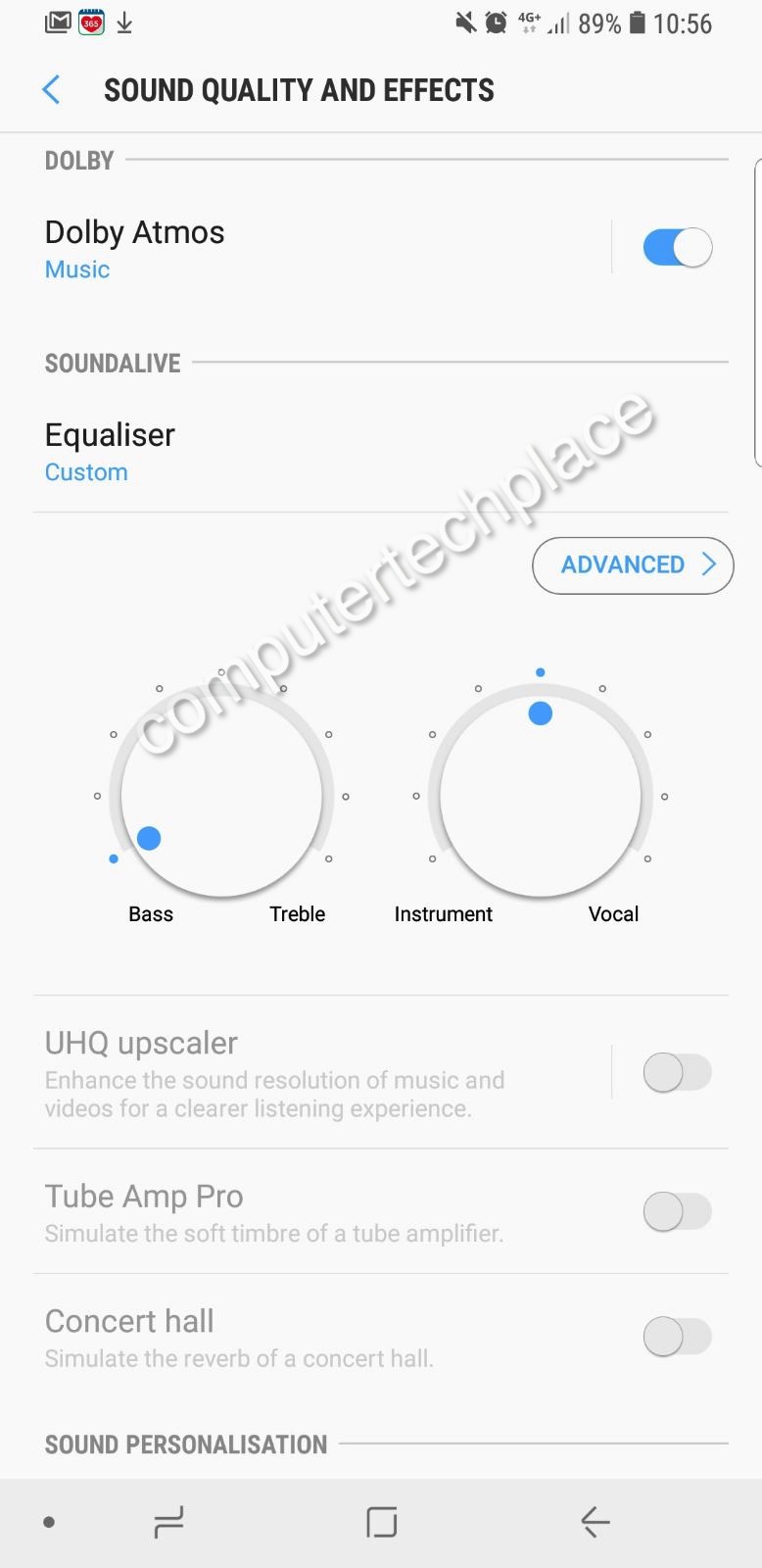 Tap the Dolby option directly and not the radio button to enter another level of settings which will reveal additional sound presets like Movie, Music etc.  These settings make a hell lot of difference and I suggest you set it in accordance to what you are doing now.  For instance, if you are listening to Tunein app, set it to music.  It will help a alot.  And if you are watching movie, set it to movie, because it will bring up the bass that truly matter.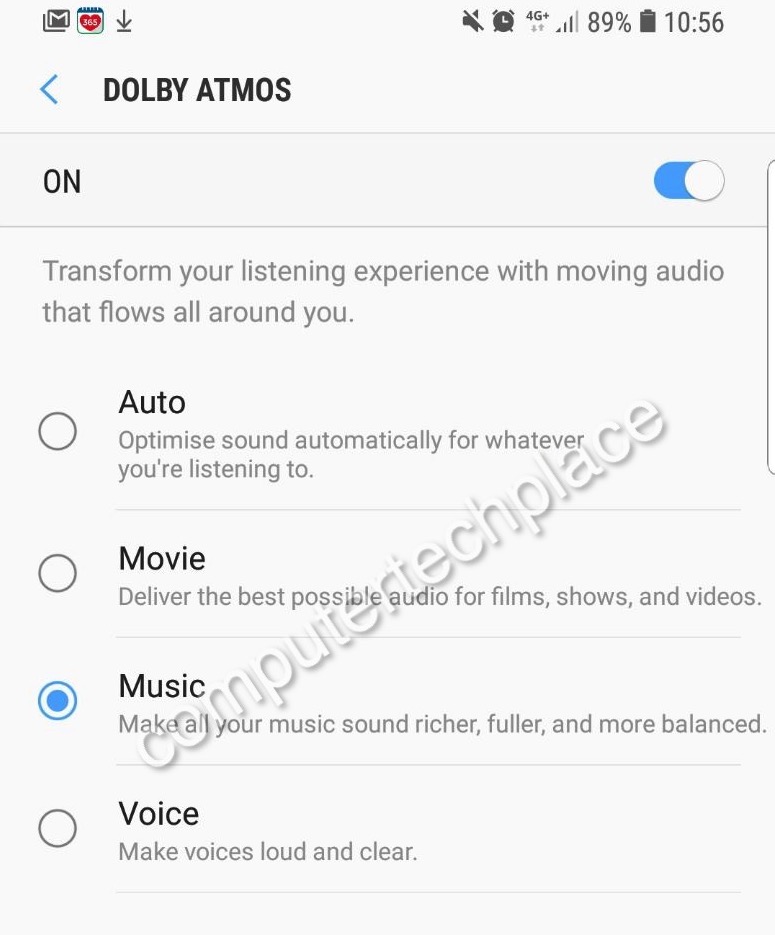 In order to enjoy great movie, all you need to simply
Project your mobile phone to the TV via Smart View.
Launch your favourite video app, you might want to check out my guide on some of the best apps to watch dramas or movies.
Connect your earphones or if you already have an outstanding audio setup in your living room, turn up the volume and get some pop corn.

Note: If you are not hearing any sound directly from the earphones, you will need to unplug and replug your earphones to the phone to send the signal to trigger the audio output to earphone instead as the audio will be set to Smart View wireless audio casting at first. 
Step 2 (Optional) – Various audio layout speakers or earphones.
If you are someone who prefer to enjoy your movie with mind blowing effects, you would probably have your very own 7.1 speaker system.  However, this setup may not be the best if you prefer not to disturb others.  If you are really on a budget, you can simply resort to a good quality earphone while you mirror the phone to the TV.  Assuming that you are not watching alone, you can get one of those earphone jack spitters so that you can hook up 2 earphones at once.
Being tied down by wires can be a pain, thus it is better to resort to a Bluetooth transmitter.  If your TV has some form of bluetooth audio pairing feature, you can pair Bluetooth headphones to the TV.  Even if your TV is not Bluetooth capable, you can connect a Bluetooth transmitter to transmit the output via Bluetooth.  You will be able to enjoy the effects wirelessly without pulling the phone or TV along with you if you wish to go to the toilet or as you are trying to reach out for a drink.
There are lots of Bluetooth adapters that can convert a earphone jack output to a Bluetooth output.  There's nothing to be worry about not having the correct jack for your TV as these adapters, can be easily be converted using analogue adapters that can be found in any computer store.
If you can afford it, go for a good quality device so that you will not experience audio breaks in between the movie.
With this setup, you can save some money on those movies that are not worth spending money on, and yet you will be able to enjoy movie experience of great quality in the comfort of your own home.