Save Android Battery By Lowering Graphics Settings
You can save Android battery by lowering the graphic settings.  Smart phones and tablets are being used instead of desktop PCs and laptops.  App creators are starting to bring better apps that can allow you to perform certain tasks that we normally can only do via a full fledge operating system.  The mobile phone is now being used in every single task we do, it is a gaming device, navigator, movie player and much more.
With games being more and more demanding in graphics, one of the biggest reasons for battery drain is the unnecessary high texture HD graphic rendering in a small screen.  It is not as though it would make a huge difference.  But the battery drain does make a huge difference.
With new concept games emerging in the markets that leverage on GPS, camera and Augmented Reality, I found something online that  can really increase your battery life of your mobile device by at least 30 to 50 percent more.
Save Android Battery By Lowering Graphics Settings
Samsung Game Tuner
Currently, this app is only meant for Samsung, which is really sad for users of other smartphone brands.  Hopefully, some one will come up with a version in future that works for most models if not all.  What I love about this app is that it really works,  you can customize texture, frames per second and it even offers one touch options to let you choose modes like ultra extreme battery saver modes that will cut the frames per second drastically.  You will experience some lag, but as long as the game is not a real time critical game, I believe that the extra battery juice you can save makes the trade off worth while.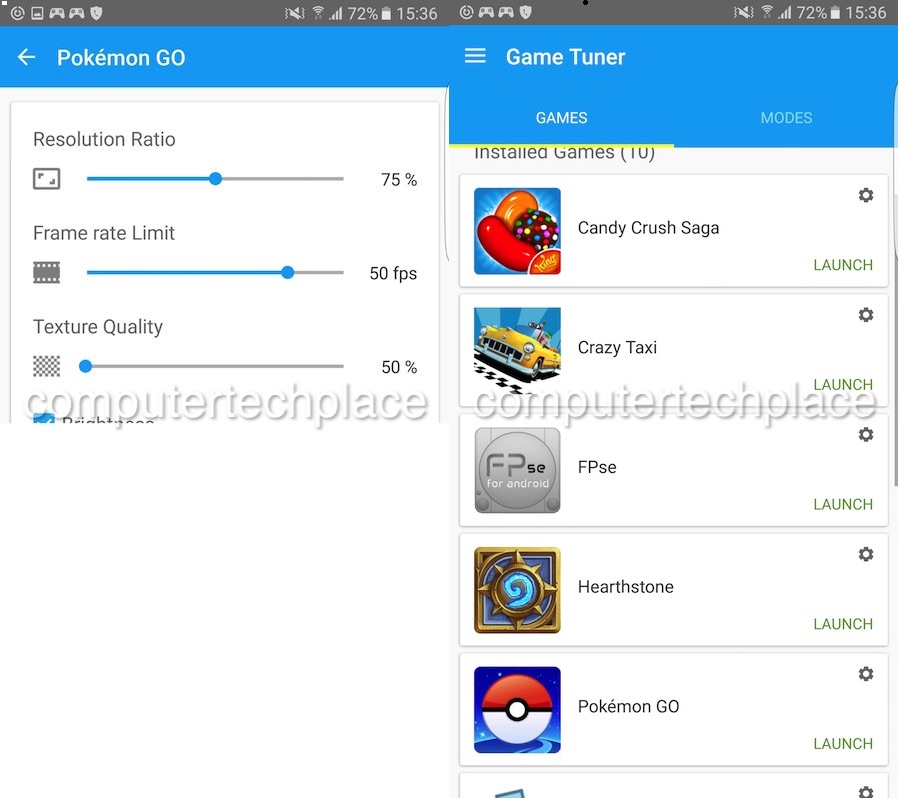 Swift Gamer
For other mobile phones out there, there is Swift Gamer which can help to optimize the game.  It does not come with extreme customizations, but there are a handful of nifty features that are surprisingly useful, for instance child lock that you can use to limit a certain app or the amount of time you can spend on this game.  Temperature monitoring which will alert you when your device gets too hot.  It even comes with options to detect and kill apps that are using too much resources that you are actually not using right now and delicate it all to the current game you are playing.
There are a range of game boosters out there in the market, however to choose one that does not result in a lopsided outcome where the game is extremely smooth where as the device is actually working extremely hard to run the game resulting in the battery draining twice as fast is my main objective when it comes to recommending an app.
I am excluding rooted solutions as it is more important to cater my guide to users who are less techie.  For those who are able to implement rooted solutions will be able to take care of themselves with advance tweaks.
Readers out there, if you have any great app to recommend, do suggest in the comments section below