The New iPad Features Against Android Tablets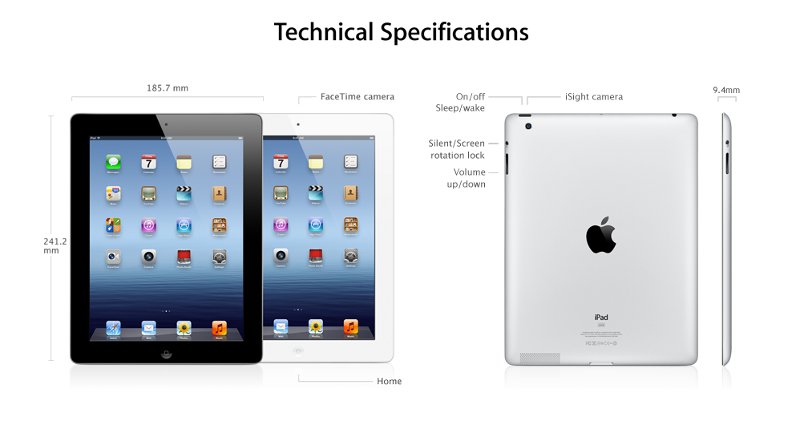 Apple released the latest iPad that is supposed to be known as iPad 3, but it is named The New iPad. Whatever Apple chooses to call it does not interest me. But this article, I am going to spill the beans on how unscrupulous that Apple can be when they decide to market their products. Lets take a look at what this New iPad has improved on.
It has improved or I rather say that Apple has finally willing to add the following improvements to the current "revised" iPad 2.
1. Retina Display.
Come on, we all know this is not a new technology. A lot of anticipation on putting the much awaited Retina Display comes finally after 3 versions of the iPad? Even though I appauld Apple's move in putting the Retina Display after so long. This only tells me that Apple has got not much cards left to play.
2. A 5 Mega pixel rear camera and VGA front camera
Lets face it, if you can put an 8 megapixel camera in the iPhone 4S, why is it that you are falling behind the technology with a new product? For such a huge device, unable to squeeze in a better camera in is a lame shitty reason that no one will accept. And the front VGA camera is the climax of all disappointments. I know that so far, all of the Apple's devices, use the same VGA front camera. Just take a look at the competitiors out there. Samsung Galaxy S II uses a 8 mega pixel rear camera and a 2 mega pixel front facing camera. Who uses a VGA camera these days? Come on, wake up Apple.
3. A5X CPU
A slightly ramped up CPU with 4 graphics chip. But the speed stays at 1Ghz duo core. Come on. Even smaller devices, like the Samsung Galaxy Note uses dualcore 1.4 Ghz. Maybe there is still no need to bother too much about flash content and thus there is no rush to push for powerful CPUs. I wish to point out the fact that the Asus Transformer Prime Android tablet uses a Quad core 1.4Ghz CPU. This is just 0.2 Ghz away from a netbook CPU. If a netbook can handle flash content, we are not too far off in tossing this issue of unable to handle flash out into the backyard.
4. Voice dictation
This is not the Siri that comes with the iPhone 4S, it is just a handy assistant that reads out text off the screen. In case you are too lazy to read yourself and you need someone to read you to sleep. This function is pretty nifty. My guess is that the iPad 4 will come with Siri as the next big time. "Facepalm".
5. LTE Support
This New iPad allows you to use 4G. That is a good step forward, since it makes itself one of the tablets to allow 4G. Nevertheless, I believe it won't be too long a wait before the Android tablets come snapping at the heels of this New iPad with 4G supported models.
Final verdict. I know that I may get a lot of hate replies from Mac fan boys and girls. But paying a price tag of $658 to $918 for Wi-Fi models and $828 to $1088 for Wi-Fi and 4G models, balls to the Apple for such an exorbit price for old technology. You can easily get the Asus Transformer Prime tablet that comes with the latest technology for just around $600 plus dollars and there is no need to choose between Wi-Fi or network versions.
I particularly liked this table that states the comparison amongst some of the latest Android tables out there.
For those who have too much money to waste. By all means, go get your iPad. I recommend the Asus Transformer Prime instead for all the other people.