Tips And Tricks To Protect Yourself When You Are Doing Online Shopping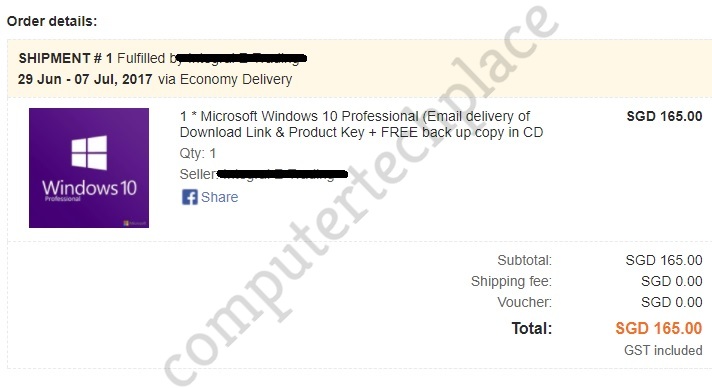 E-Commerce is gaining popularity, here are some tips and tricks to protect yourself when you are doing online shopping.  With any industry, there will be rogue individuals who will go all out to cheat their way out of a living.  I was worried about being cheated 5 to 10 years ago, when "buying online" back then would be like dumping your money into a online transaction and pray for the best that what you ordered would make its way to your door step.
With the increase of online stores and sales portals or what I would call them electronic flea markets.  The possibility of getting cheated increases as well.  Recently I had a very distasteful experience with an online purchase that made me feel that there is a need to write this article to provide some tips and tricks on how to protect yourself when you are purchasing anything online.
To start off, let me show you what I have purchased online.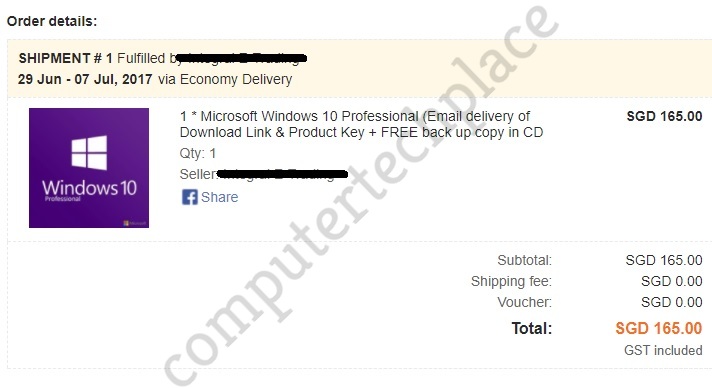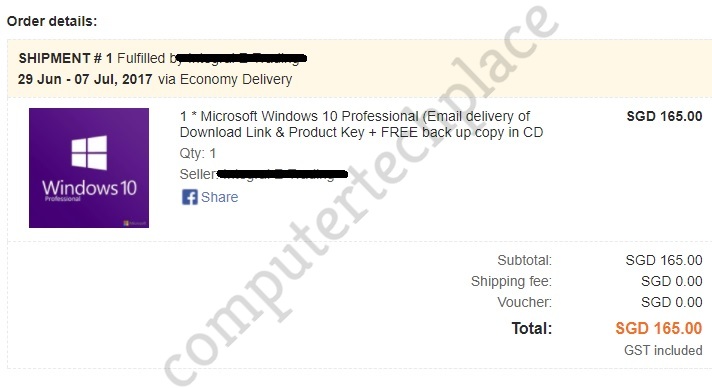 As this company sounds very reputable, I held high hopes that at the very least, I would receive a OEM CD.  Well, guess what I received.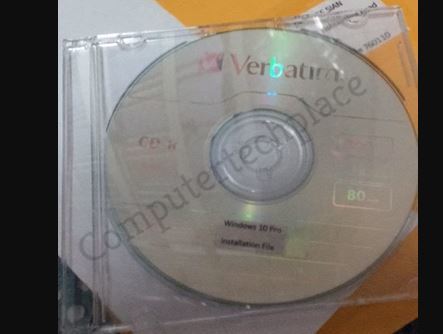 Now, as I am a techie person, if I were to accept such a product, it would be an utter insult to my intelligence.  I am no Einstein, neither am I a student scoring straight As for my exams. However, I do have something what human's called common sense.  Even though Donald Trump became president, that does not mean that the world is now full of idiots.  I raised a ticket to the company raising my concerns and it took me weeks and to the extend of settling this in the form of legal action, before the company decides to refund me and stop all the nonsense of trying to hoodwink me.
So I was lucky enough to get a refund, I almost failed to get a refund as they claimed that since I had opened the package and saw the CD key and also they had emailed me the key, it means that they will not refund me, since I know the key.  So I hope that, others will be able to benefit from my tips on how to be careful when you do online shopping.
1  Reviews and appraisal
Look for reviews and public comments on the E-Commerce site.  If a seller has no reviews or this site has so many items on sale and there are so few comments on the product itself, chances are they are killing out all the negative comments or keeping it closed so that no one will know how good or bad the product is.  It does not matter how large or reputable the site may look or sound, no appraisal or feedback on the product itself, chances are, it is a bad idea to buy from that source.
2.  Ask for an actual image
Ask for a screenshot or image as to what you should be expecting to receive.  If they ask you to refer to what is already posted, then seek confirmation that if the "posted image" is an exact or accurate estimation that you will be getting when the product is delivered, if they say yes, you can hold them accountable if the product does not look as advertised.  I know it can be over demanding, but this is to be fair to both parties, if you don't feel comfortable after seeing the actual photo of the product, you do not have to buy, and the seller does not have to sell to you, and after which both of you end up struggling with the refund process.
As for software, email the user, "for a black and white" respond if the product you will be getting is a boxed version and not just the CD key.  Of course, you can also ask for a real image as to what you will be getting.  If they cannot confirm or provide any image, just don't buy from them.
3.  Buy from e-sellers that have an actual shop
This is just a "best to have" option, but sometimes, it is impossible.  This will allow you to scout the address for real first to see if indeed there is physical shop.  Most e-sellers who have physical "pick up point" or "actual store" do not dare to sell inferior products.  They do not want to risk facing an angry mob tearing the shop down by having to address inferior products.  You can also have a sense on how good the product will be before you make an online purchase with this e-seller.  *Please note that an actual shop does not mean that the name of the e-seller sounds like a shop, they must state that they have a shop for the public to do a walk in, not just because they are called e-gadget store, but they do not have a physical address that you can go to.
4.  Google
Google is your best friend, an online market that is reputable enough will have some information on how good or bad it can be.  Chances are you might find some news of others being cheated before you.  And you can instantly strike that online market off your list of online markets that you will buy from.
5.  Cash on collection.  – Normally, just don't opt to buy like this, it is the most risky of all.
This can be risky as well when it comes to how bad the situation may get.  Because, if you are the seller and the buyer is a crook, you may end up being robbed because you have to meet the person.  My suggestion might seem a little paranoid, but in countries that you can get robbed in an instant, I suggest being safe than sorry is still the best approach.
Meet in a public place, Starbucks etc, for obvious reasons, so that no one will be able to rob the other person in broad daylight.  Even if there is another team ready to rob, they will most likely be caught on camera.
Do the transaction via online banking or electronic transfer, state before hand that you will only pay via electronic payment.  This is to prevent being robbed.  In extreme cases that a person does not have online banking, prepare a cashier order or a cheque.  You will have more time to call the bank to cancel your cheque than the person to rush to a bank to cash it out, should there be a robbery or a case of your wallet being pick pocketed.
Check your goods to make sure they are real and not just a box of sand, offer to pay the seller half the amount first while you unbox the package to make sure that you are not getting a box of apples or a dead on arrival iPad.  Once you are satisfied with the product, you can pay the seller the rest.  If the seller feels that he does not want to let you unbox, well you can always call of the deal.  Of course, this sort of transaction is always a disadvantage on both sides, the buyer can damage the product by accident and the seller cannot do anything about it.
With the economy going down hill, people will be driven to desperation and will resort to all sorts of trickery and scams to earn a quick buck.  I hope all this article will protect those who love online shopping from being cheated.