Root Samsung Galaxy S4 GT-I9505

It's been a long time since I wrote a rooting guide.  The last time I did was for HTC ChaCha,  Now this guide will be on how to Root the Samsung Galaxy S4.  There are lots of guides out there on how to Root Samsung Galaxy S4.  But my guide will be much tailored towards the non geek users.  Which means that if you do not know anything about PC, as long as you understand English, you will be able to root your Samsung Galaxy S4.  I am someone who will go into very deep details when I do a guide, but I will keep it short and not bore you with extremely long write ups.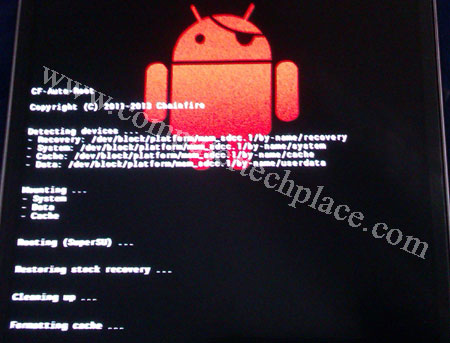 Step 1 – Some information to know.
There are a few variants of Samsung S4 out there.  From what I read up, only the first few releases are non rootable.  In general, those that are the first few releases of Samsung S4 cannot be rooted.  If the models are SGH-I337 or SCH-I545, it may be risky.  I know they are AT&T and Verizon models.  But as the days go by, the hardcore hackers may have found another way.  For me, I am holding on to the GT-I9505 model.  This guide is more for rooting GT-I9505G and GT-I9505 models.  I think there is a slight different method for the  GT-I9500, in terms of file to use.
Step 2 – Install drivers first
There will be a few basic preparations needed before you even start doing it.  Especially the Samsung S4 drivers will have to be installed otherwise there is no way the rooting software will be able to communicate with the phone.
1.  Connect your phone to the USB of your computer and let all the phone drivers install itself first.
2. Make sure you have at least 50% battery.  The rooting actually takes less then 10 seconds.
3. With the phone still connected to the USB, turn it off.  While holding the Volume down button, turn it on.  Let it enter the Downloading mode.  I have seen instructions like press the home key + Volume down + Power together and releasing the home key after it turns on etc.  While for me.  Just hold the Volume down and turn it on.  You will see a lot of configuration going on from your PC side.  Let it find all the drivers.  Do the same when the phone is still running in normal mode.  Lets say you are unable to get the drivers installed.  Get all the Samsung drivers from here.
Step 3 – Start Rooting
Download Odin and the CF-Auto-Root-jflte-jfltexx-gti9505.tar.md5 file.  Now all you need to do is to start the Odin program, with the device in the Odin mode.  Remember how to get there?  Turn off your phone, hold down the volume down and turn it on.  It nothing goes wrong, your phone should be detected in Odin software.  Click on Pda and choose the CF-Auto-Root-jflte-jfltexx-gti9505.tar.md5 file.  Make sure that Repartitioning is not checked, and check it for Auto-reboot.  Simply click start.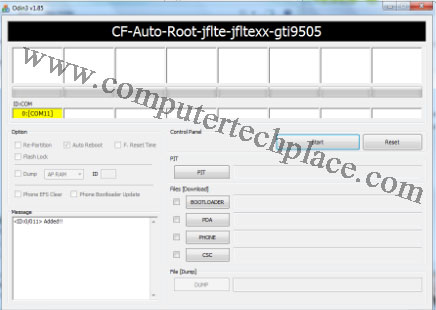 And it will end off with a Pass if it is successfully rooted.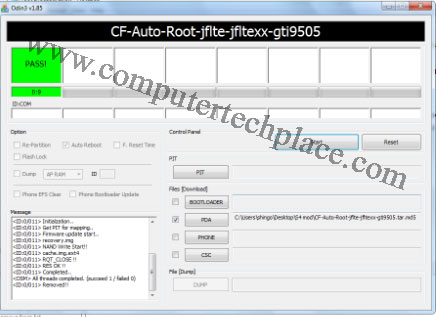 Now after you have restarted your device, simply check that you have a SuperSu app now.  And your device is now successfully rooted.  It's Darn Easy isn't it?
How do you like this guide on how to Root Samsung Galaxy S4 GT-I9505.  I hope you enjoy playing with your rooted Samsung S4.  Stay Tune, and the next guide coming up next week will be how to backup your Samsung S4 to Clockwordmod and flash custom roms.